What do a popular
SportsCenter
anchor, the NBA's best point guard and two of the funniest characters on TV have in common? Brian Kenny, Chris Paul, Larry David (
Curb Your Enthusiasm
) and Michael Scott (
The Office
) all have first and last names that could be just a first name. Here are ten Chicago athletes who also share that distinction, along with some notables who share the names.
(Sorry ahead of time for all the dated movie and TV references. Finding notable people with some of these first names was pretty tough.)
10: Anthony Thomas/David Terrell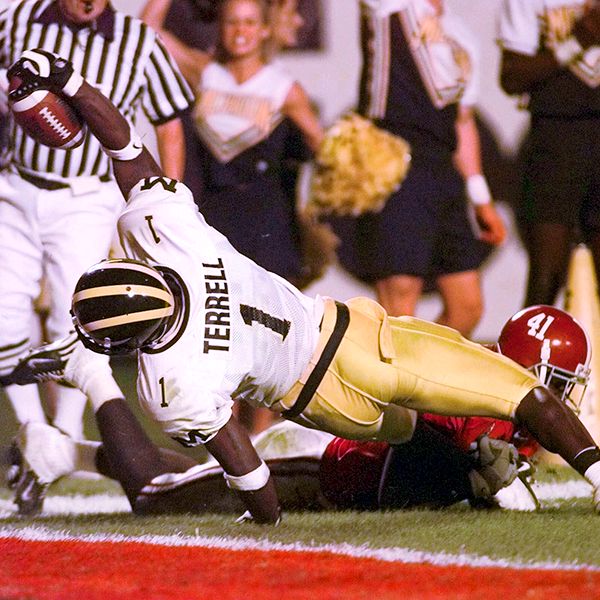 Along with having two first names, Thomas and Terrell have lots in common. Both played at the University of Michigan, both were drafted by the Bears in 2001 and both had short NFL careers, though A-Train had at least one good year for the team during his rookie year. The Bears would have been much better off with wide receiver Terrell Owens and a quarterback named Thomas Edward Patrick Brady.

The former Bulls guard averaged about five points a game during his three year, 144 game career. He wasn't much better than two other former Bulls who shared his names, Corey Blount and Ben(jamin) Wallace. In case you were wondering, players taken after Benjamin in the 1998 NBA Draft include current NBA All-Star Rashard Lewis and Mr. Skip to My Lou, Rafer Alston.
It remains to be seen if Gregg will be a solid player for the Cubs, since he hasn't even thrown a pitch yet. But its unlikely he'll ever be as good or memorable as two other pitchers who wore Cubby Blue, Greg Maddux (different spelling but same pronunciation) or Kevin Tapani.
Best remembered for his diving catch on a Hail Mary at the end of regulation in a 2001 Bears/Browns game, Allen wasn't ever a star player for the team. But he did have some nice years, even eclipsing 1,000 rushing yards in 2000. Still, Bears fans would have been happier with a running back that has speed similar to Allen Iverson, not James Gandolfini.
The former White Sox star is the only one on this list who has the first name of a male and the last name of a female. Albert wasn't as smart as Einstein or as compassionate as Belle from
Beauty and the Beas
t, but the dude could definitely hit a baseball.
The former Fighting Illini and current Bears wide receiver is known for making amazing catches and dropping balls that hit him in the chest. After missing much of the season with an injury that many critics claimed wasn't as serious as the wideout said, its obvious the Bears would have been better off with a player that has the toughness level of Brandon Jacobs and not of Ari Gold's assistant on
Entourage
, Lloyd.
Nothing against Fred McGriff and Eric Karros, but it seems that for a long time, the Cub on the right side of the infield has had two first names. Starting with Mark Grace, then Randall Simon followed by Derek Lee, it's been almost all first name first basemen for 20 years. Maybe it's a sign that when Lee's time is done on the North Side, the Cubs will sign another two first namer, Ryan Howard.
A winner of the NBA Sixth Man Award during his rookie season, BG has been a good scorer and bad defender for his entire Bulls career. He probably wishes though he was as successful as Super Bowl winning quarterback Ben Roethlisberger or as rich as the character Gordon Gekko from the movie
Wall Street
.
The Big Hurt was one of the premier hitters of the 1990's, winning AL MVP in both 1993 and '94. He never led the Sox too far in the playoffs, but #35 still was a feared hitter for a long, long time on the South Side. His 521 homers is 18th all-time, 250 more than former Twin Tom Brunansky but 67 behind Hall-of-Famer Frank Robinson.
Not even a starting five of Michael Finley, Jordan Farmar, Michael Beasley, DeAndre Jordan and Michael Olowokandi, coached by Eddie Jordan, could beat His Airness.