The all-star game is next week, and while I can almost guarantee you I won't be watching any of it willingly, many actually look forward to the plethora of events. While there has not been much to celebrate all-star game-wise with the Bulls for the larger part of the decade, they do have a pretty rich tradition of great performers. Below are the top ten.
10. Tyrus Thomas- 2007 Slam Dunk Competitor
He didn't win, he didn't even qualify for the next round, but one thing is certain, those shoes were off da hook!
9. Craig Hodges 1990-92 Three-Point Champion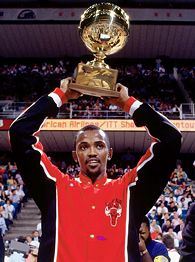 He and Larry Legend are the only guys in the NBA to have won three three-point contests. Unfortunately, in actual games he never got quite the looks he did in these contests.
8. Michael Jordan 1987 Slam Dunk Champ
"His Air-ness" first took off in a dunk contest and took title one of two.
7. Jordan 1998 MVP
Jordan scored a modest 23 in what should have been his final ASG game in a 135-114 rout of the West.
6. Elton Brand 2000 Rookies game
Then-rookie Brand scored 16 and a game-high 21 rebounds (12 offensive) in the inaugural Rookie/Sophomore showdown.
5. Steve Kerr 1997 Three-Point Champ
This is the last time I actually watched the 3P-comp, but Kerr was simply on fire, edging Tim Legler in the title.
4. Jordan 1988 Slam Dunk Champ
Posters of his free-throw line dunk have hung on kids walls for decades after this competition. The "Jumpman" logo is around because of that epic showdown with him and Dominique.
3. Jordan 1996 MVP
There might be a little bias here, especially because he only scored 20. But the reason he is this high is mainly because of those aqua jerseys. Seriously, I would pay good money to get a replica.
2. Scottie Pippen 1994 MVP
While Pip played second-fiddle to MJ for over a decade, he took advantage of Jordan's first retirement by becoming the '94 ASG MVP. Scottie scored 29 and grabbed 11 boards in the 127-118 East win.
1. Michael Jordan 1988 MVP
MJ just did what he always did, dominate at home. He scored 40 and had eight assists to lead the East. While he won the dunk contest the season before, this surely had to be the "this guy is for real" game.
**Side Note: Listen to the names of some of the other guys on this east squad: Larry Bird, Danny Ainge, Doc Rivers, Brad Daughterty, Kevin McHale and Mo Cheeks. Notice a theme of any sort?