It finally appears that John Paxson has had enough of the Bulls' selfish, inconsistent and generally lethargic play. Reports are that he will step down from his GM role at the end of the season.
Well, Pax, I think it's fair to say that the feeling is mutual. Bulls fans are sick of the job you've done, if the ovation you received at the ceremony honoring Johnny "Red" Kerr was any indication. The only way you can leave town with any dignity intact is to trade for Amare Stoudemire.
Please Pax, finally take a risk. It's silly to wait for the 2010 free-agent class and hold out hope that Dwyane Wade or Chris Bosh will come to Chicago. Here are 10 reasons why the Bulls need Amare.
10. He fills a major need

To be a contender, you need two big things; a great point guard, and a big man who can score. The Bulls already have Rose, but they don't have that consistent inside scorer, something that Tyrus Thomas will never be. Although Amare isn't your typical back-to-the-basket type guy, he's going to get you 22-24 points every night.
9. He'd open things up for Gordon and Deng
With teams having to worry about Amare inside, Gordon and Deng end up benefiting big time. Opponents wouldn't be so willing to throw double teams at Gordon. Deng would be sure to get a lot more open looks with a true inside presence. Gordon and Deng would become perfect complimentary players if the Bulls landed Amare.

8. He's a finisher

What the Bulls lack right now is a go-to-guy down the stretch. Rose has tried to be that guy, but hasn't come through. Gordon, due to his size, is forced to take very low-percentage shots with the game on the line, so he's not the answer either. The Bulls could very easily be over .500 right now if they had a guy who could finish games. Stoudemire is that guy.
7. He'd make the Bulls fun to watch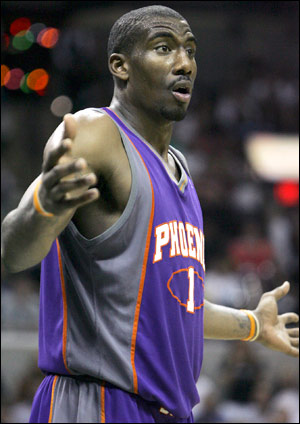 Other than Rose's creativity and the occasional dunks from Tyrus, this Bulls team registers about a 3 on an excitement scale from 1 to 10. Winning comes first in attracting fans, but entertainment is a close second. Stoudemire would provide the latter and then some. He would also provide the winning part (more on that later).
6. He isn't really injury-prone

Yeah, Stoudemire might never be quite the same player he was his third year in the league, when he burst onto the scene and had his way with Tim Duncan in the Western Conference Finals. His microfracture knee surgery did cause him to lose some of his explosiveness. Still, over the last 2 ½ seasons, Amare has missed a total of four games. And he is only 26 years old, an age when most guys are entering the prime of their careers.
5. He's way better than Tyrus
When I heard last week that a package of Tyrus, Thabo, Gooden, and a first-rounder would likely be enough for a 26-year old guy who last season averaged 25 points and nine rebounds, I thought, huh? If Steve Kerr is naïve enough to think Tyrus is going to develop into a superstar, well, that's his problem. Even with Thomas' recent five-game stretch (18 points, 11 rebounds) he will never be close to the player Amare is right now.
4. Stoudemire would welcome the challenge
He has worn out his welcome in Phoenix, and the Suns have made it clear that they want to shed Stoudemire's salary and rebuild around the 35-year old Steve Nash. Amare needs a change of scenery, a place where he can start all over. Chicago is that place. Bulls fans would welcome him with open arms. Stoudemire could be the man on offense without having someone like Shaq clogging up the lane. He could prove to any doubters that he can still carry a team on his back.
3. He'd be great with Derrick Rose
How much fun would it be to watch those two play together? Remember, Amare helped Nash win consecutive MVP's. And Nash helped turn Amare into one of the league's brightest young stars in their first season together in Phoenix. Imagine how good Rose and Amare could make one another look? It would sure be something special to watch.
2. Talent wise, he is one of the NBA's best
In terms of putting the ball in the basket, very few big men do it better than Stoudemire. He can score in a variety of ways, and is a matchup nightmare for opponents because of his versatility, length and athleticism. I'm not going to call him a superstar, because his defense is very suspect, but if I were doing a list of the league's top 15 players, he would be on it.
1. He makes the Bulls a contender
One of the argument's I've heard for not trading for Stoudemire is that even if the Bulls got him, he won't turn them into a championship-caliber team. That's true, because the Bulls wouldn't suddenly move past the Celtics or Cavaliers with Amare, but they would certainly turn into one of the East's five best teams. Right now, they are perhaps the conference's 10th best team. Stoudemire would get the Bulls to the playoffs this season, and maybe even past the first round.