The Cubs have dominated the headlines in Chicago this baseball offseason, while the Sox have quietly flown under the radar. For the first time since Kenny Williams became the White Sox general manager, he didn't make a major move in the offseason.
On paper, the Sox look worse than last year's overachieving 89-win team. Still, like Paul Konerko said last weekend at SoxFest, Williams' recent track record warrants giving him the benefit of the doubt. In fact, I can't think of more than two or three GMs I'd rather have running my team. Here are 10 reasons why Kenny Williams is the man.

10. He doesn't give up on players
My guess would be that a lot of other GMs would have gotten impatient with the unfulfilled potential that guys like Jon Garland and Joe Crede teased Sox fans with for so long. Williams stuck with both of them when most fans were ready to give up on each. You know how the rest turned out, with Garland posting consecutive 18-win seasons, and Crede solidifying himself as one of the game's best third basemen before his injury troubles.
9. He can be a hothead
Remember in 2006 when Williams referred to Frank Thomas, in response to comments Thomas made about the organization, as an "idiot" and "selfish" and said no one in the White Sox organization would miss him? While his choice of words was maybe a little over the top, the message was sent: Williams won't back down from anybody, even arguably the franchise's all-time best player.
8. He's honest with his players and the media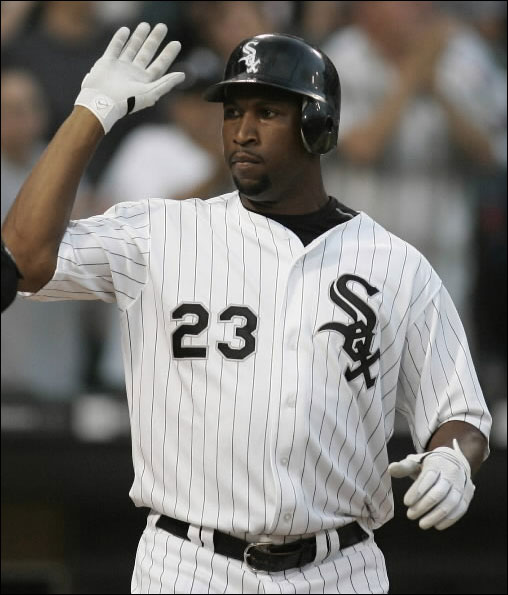 When Jermaine Dye was rumored to be in trade talks this offseason with the Reds, Williams was up front with him about what was going on. Players respect that. Too many GMs are just the opposite. With the media, Williams isn't afraid to call out his team to perform better or even put the onus on individual players without referring to them directly by name. We don't see enough brutal honesty from high-up people in sports. That's why Williams is so refreshing.
7. He "discovered" Alexei Ramirez
Ramirez's 4-year $4.75 million dollar deal makes him one of the best bargains in baseball. Williams beat out eight other teams for Ramirez's services. The Sox now have their shortstop of the future, thanks to Williams and his scouting department.
6. He has made very few bad moves
Off the top of my head, I can think of only three real bad moves Williams has made since becoming the Sox GM in 2001; trading Kip Wells and Josh Fogg for Todd Ritchie, trading Billy Koch for Keith Foulke and trading some of his top prospects for Nick Swisher. Considering that he has completed several blockbuster moves since becoming the Sox GM, that's a very impressive track record.

5. He isn't afraid to give unproven players a chance
The Sox will likely go into this season with big question marks at second base, third base, centerfield, and the back end of the rotation. Rather than overpay for veterans, Williams is making the right move by showing confidence in guys like Jerry Owens, Josh Fields, Chris Getz, Brent Lillbridge, Aaron Poreda and Brian Anderson. Even with that, Williams has been quick to point out the Sox aren't rebuilding, and he's right. They still have enough to win the AL Central and at the same time find out what their young guys can do.
4. He helped break the 88-year curse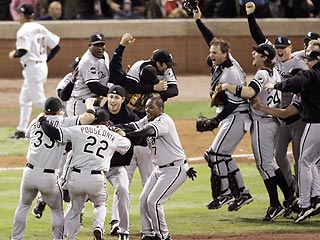 I would argue Williams played as big a role as anyone in the Sox World Series title. That offseason, he completely changed the Sox from a team that relied on power to a team built on pitching, defense, and small ball, with some power mixed in. He brought in A.J., Dye, Iguchi, Podsednik, El Duque, Hermanson, and Jenks. The previous year Williams also traded for Garcia and Contreras to build a rotation that was the best in baseball in 2005.
3. He isn't afraid to take risks
Just a month into the job, Williams set the tone for his aggressive style by pulling the Mike Sirotka for David Wells trade with Toronto. While some of his moves have had better results than others, I think it's fair to say if not for Williams' "no guts, no glory" approach, the Sox wouldn't have had winning records in six of the past seven seasons.
2. He hired Ozzie Guillen
Not too many general managers would have had the guts to hire Guillen, especially after it was reported Guillen and Williams got into an argument during their interview. Even though Ozzie has gone overboard a couple of times, he has given the Sox an identity in a market where the Cubs always seemed to grab all the headlines even when they were losing. If not for Williams' risky move, we never would have been lucky enough to enjoy one of the coolest personalities in all of sports.
1. He made three absolute "steal" trades
What would the Sox look like right now without Carlos Quentin, Gavin Floyd and John Danks? Well, let's just say they would be closer to the Royals than to the top of the AL Central. At the time, people in Chicago criticized Williams for trading away Freddy Garcia, who played a big role in the Sox 2005 title, and Brandon McCarthy, the organization's top prospect. However, Williams has had the last laugh.