After Kobe Bryant scored 61 versus the Knicks on Monday night, the discussion began that maybe he was a better player than Jordan. Then two nights later at Madison Square Garden, LeBron James came in and dropped 52 points to go along with 11 assists and 10 rebounds, and the talk got even louder that MJ wasn't at the level of these current superstars. Problem is, all these talkers lack a long-term memory. Here are ten reasons that Air Jordan was better than both Kobe and the King.
(Note: This isn't saying James (age 24) or Bryant (30) will never be better than MJ, just that right now they aren't at that level.)
10: Jordan made every battle a personal one
One of Jordan's best attributes was that he always found a way to tell himself he was being disrespected. Isaiah Thomas wouldn't pass him the ball during the '85 All-Star Game, so MJ made it his life mission to torment the Pistons guard, going as far as to forcing USA Basketball to leave Thomas off the Dream Team if they wanted MJ to play. Yet time after time Shaq has called out Kobe in public, and the Lakers star has never responded with a huge game versus O'Neal's team. Michael never would have stood for that.
9: Jordan faced tougher defenses
During MJ's career, teams were allowed to hand check offensive players and play the Bad Boys/ Pat Riley kinds of physical defense. Now, if LeBron is touched anywhere inside the three-point arc, he goes to the free throw line. Yet Jordan still averaged more than 30 points a game over the course of his career in the regular season and over 33 in the playoffs.
8: Jordan was in

Space Jam
Are you telling me that LeBron James and four cartoon characters would be able to beat a MonStar lineup of Shawn Bradley, Patrick Ewing, Charles Barkley, Larry Johnson and Muggsy Bogues? I doubt it.
7: Jordan evolved his game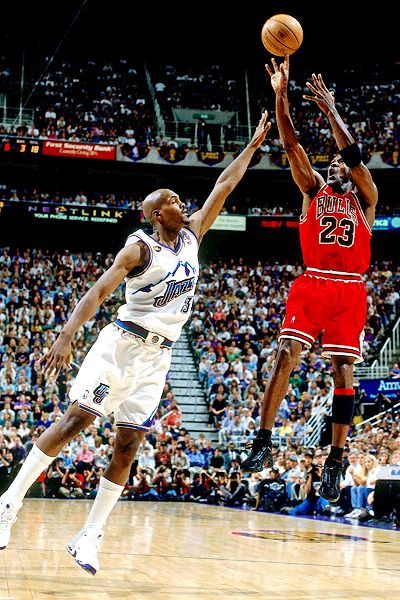 Starting off, Michael was a drive to the basket player who had solid- but not spectacular- range on his jump shot. As he matured as a player and some of his athleticism vanished, he added a pull up jumper, some post moves, and most famously, a completely un-guardable fadeaway. Both Kobe and LeBron are young enough that they can get by on their raw skills, as well as improving every season themselves. It still remains to be seen though when those two lose some of their athletic skills if they will be able to adjust like Jordan did.
6: Jordan carried a bigger burden
No offense to Scottie Pippen (one of the top five players of the 1990's), Dennis Rodman (best rebounder ever) and Jud Buechler (the whitest player ever), but Michael was never surrounded by the greatest talent, especially in the frontcourt. On the other hand, Kobe spent the first half of his career alongside the leagues most dominant player, Shaq, and has also played with fellow All-Stars Gary Payton, Karl Malone and Pau Gasol. LeBron, you get a break on this one.
4: Jordan came first (off the court)
Would Kobe have his own line of Nike sneakers without Jordan coming first? Who knows. Would LeBron have jersey number 23 if MJ hadn't done it before him? Can't say. Would either player be wearing baggy shorts were it not for Michael making that a must in the NBA? Beats me. The point is, Jordan made as much of an impact off the court as anybody before or after him in basketball history.
What was the biggest shot of Jordan's career? The debate could last for hours, with arguments to be made for his three-pointer to win the Flu Game in '97, 'The Shot' over Craig Ehlo that took out Cleveland in '89, his baseline jumper for North Carolina in the '82 NCAA Final or his steal, crossover and jump shot in '98 that gave the Bulls championship number six. And that's just the four most memorable plays. Kobe is a great end-of-game player and LeBron is getting there, but neither is on MJ's level when the clock is ticking down.